Austrian Audio OC 818 Studio Set
Classic in wording. Van de voormalig engineers van AKG zijn de OC 18 en OC 818 afkomstig. Wereldwijd unaniem lovend ontvangen. Prachtige allround mic.
The new
viennese original
Engineered and manufactured in Austria, The OC818 is Austrian Audio's premier, professional, large diaphragm microphone. Its high sensitivity, low self-noise and ability to handle everything from a whisper to extreme SPLs make it the most advanced microphone for studio, broadcast and live applications. As the unique ceramic capsule design is so consistent, any OC818 is match-paired with any other OC818, and when in cardioid mode, it can also be match-paired with any OC18, its affordable, smaller sibling.
Key Features
Handmade CKR12 ceramic capsule
Made to the same critical dimensions as the classic CK12 capsules
Multiple polar patterns
Cardioid, omnidirectional & custom programmable
Microprocessor control of polarisation voltages
Allows remote controlled polar pattern settings
Two different analogue high-pass filters with three settings
40 Hz, 80 Hz, 160 Hz
Two different types of analogue pads
-10 dB, -20 dB
Dual outputs
for recording each diaphragm separately
OCR8 Bluetooth Dongle Remote Control Module (optional)
Optional remote control of OC818 via smart device
Bluetooth connectivity via phantom power
PolarPilot-App available for iOS or Android
Control polar patterns, pads and high pass-filters
PolarPilot App
Wireless Control
Our free PolarPilot app (Android and iOS) allows real-time wireless control over your analogue patterns,
high-pass, and pad in realtime via Bluetooth
Save, recall, and share favourite settings
Discover and create 255 discrete polar patterns
One setting may be stored in OC818 for use without the PolarPilot app
The OC818 is always pure analogue: only the analogue bias voltages are being governed remotely
Switching also is always analogue
No digital in either the audio or bias paths. It's everything you want, with none of what you don't
60 second OC818 clipping monitor/logger
Wireless control from the comfort of your chair
Design the polar pattern of your dreams
Craft different polar pattern responses across 1-5 crossover bands
Store, recall, and share presets
Powerful terminator AI for eliminating or rescuing selected frequencies and instruments
EQ control for imprinting the tonality of free-field or diffuse-field idealised responses
Solo/mute each band
Full automation
Phase linear
Optimised for use with the OC818 in Dual Output mode, however works with any dual output source
Ideal for busy sessions: tune instrument pickup during the mix stage
Formats: VST3, AAX, AU (OSX 64 Bit / Windows 32 & 64 Bit)
Mac requirements: OSX 10.7 or later
Windows requirements: Windows 7 or later
AmbiCreator
Open Source Ambisonic Plug-in
Create an ambisonic B-format signal with two OC818 microphones
More Infos here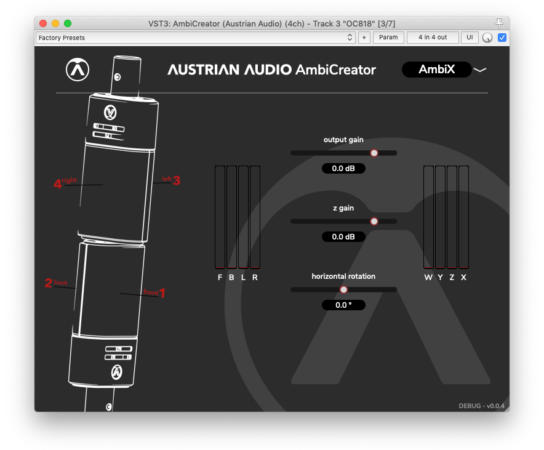 Developer Website
Product specificaties
| | |
| --- | --- |
| DIRECTIONAL CHARACTERISTICS | Multi |
| POLAR PATTERN | cardioid, omnidirectional, figure-8, supercardioid & custom programmable |
| FREQUENCY RANGE | 20 Hz - 20 kHz |
| MAX SPL | 148 dB SPL (158 dB SPL) |
| SWITCHABLE PAD | -10 dB, -20 dB |
| IMPEDANCE | 275 Ω (symmetrical) |
| DIMENSIONS | 157 x 63 x 35 mm |
| WEIGHT | 360 g |