Vragen? Betere prijs gezien?
Bel 0512 - 340457 of neem contact op!
VERSATILE PROFESSIONAL LOUDSPEAKER
ACTIVE 2-WAY
Alpha 65 Evo has a 1" (25mm) aluminium tweeter and a 6.5" (16.5 cm) woofer with Slatefiber cone developed and manufactured in Focal's workshops in France. This monitor features excellent dynamics and neutrality in its tonal balance. Its technologies mean that Alpha 65 Evo can guarantee excellent sonic coherence wherever you are listening.
Its features include a 1/4" (6.35mm) TRS jack input in addition to the XLR and RCA analogue inputs. There is also a disengageable automatic stand-by mode as well as inserts for wall and ceiling fastening.
The high current capacity offered by its 2 amplifiers supports total control of the signal dynamics. This also allows high volumes to be reached without distortion.
The bass-reflex design, rounded edges and modern, robust side panels are another big plus for the Alpha 65 Evo, all contributing to acoustical integration and optimum aesthetics in any location.
---
The Slatefiber Cone
AESTHETICS AND PERFORMANCE


After more than four years of Research & Development, in 2019 Focal unveiled a new technology with remarkable performance: the Slatefiber cone.

Manufactured in France, this cone is characterised by its dynamic, rich and ultra-balanced sound, particularly in the midranges. With its acoustic qualities and unique "slate effect", it has become a benchmark for High-Fidelity in its price category.

AN AUTHENTIC COMPOSITE CONE

The Slatefiber cone is a composite cone comprising recycled non-woven carbon fibres - Focal is the first brand in the audio field to use recycled carbon fibres in its speaker drivers - and thermoplastic polymer. The combination of these two materials results in excellent acoustic performance, in terms of sound velocity as well as rigidity and damping.

RIGIDITY
The carbon fibres alone provide an extraordinary rigidity. What's more, as they all oriented in the same direction, these fibres further increase the speaker driver's rigidity, and therefore enable more bass to be achieved.

DAMPING
The carbon fibres are therefore aligned, but also non-woven to ensure better damping. Thermoplastic polymer is also located within the fibres to provide the bond between them and increase damping.

LIGHTNESS
During the development phase, special attention was paid to the weight of the cones to optimize sensitivity: the carbon fibres are very light. In addition to rigidity and damping criteria, the Slatefiber cone therefore meets the speaker driver's lightness requirement.
---
KEY POINTS
Excellent dynamics
Wide dispersion, even sound retained throughout the room
6.5"(16.5 cm) Slatefiber cone woofer
Large laminar vent
Identical tonal balance at both low and high volume
Detailed mixes
Connect up to 3 audio sources
Inserts for wall and ceiling fastening
Automatic disengageable stand-by
Protection grilles included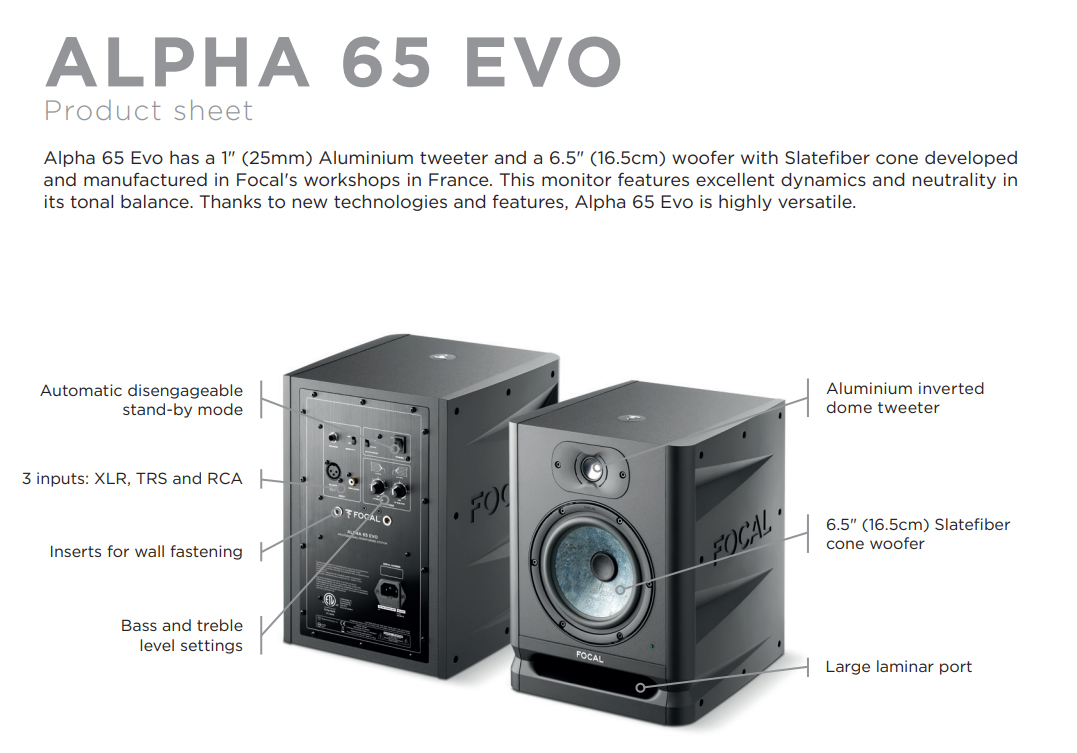 Specs:
Type Alpha 65 Evo Monitoring
Frequency response (+/- 3dB) 40Hz - 22kHz
Maximum SPL 104dB SPL (peak @ 1m)
Inputs Connectors TRS: symmetrical 10kOhms XLR: symmetrical 10kOhms
RCA: asymmetrical 10kOhms with compensated sensitivity
Medium and low frequency amplifier 55W
High frequency amplifier 30W
Automatic stand-by mode After around 15 minutes of no use By signal detection >6mV
Power supply 100 - 240V~ (T2AL fuse/250V)
Connection IEC socket and detachable power cable
Sensitivity Adjustable, 0 or +6dB